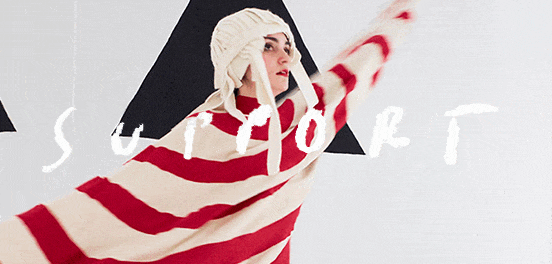 Across the globe, as countries deal with the economic repercussions of the pandemic, education in the arts and career development initiatives for artists are becoming ever harder to access. With this in mind, we are determined to keep providing the opportunities afforded by our program in Spoleto and we appeal for your support. 
Eva LeWitt and Guy Robertson
Directors, Mahler & LeWitt Studios
I think transformation, real transformation, occurs when you connect with a community. When a community reaches out its hands to you. … Being in Spoleto made me different. That's really the highest compliment that I know how to pay.
— Polly Barton, Writer in Residence
OUR MISSION
Drawing on the legacies of Anna Mahler and Sol LeWitt, as well as the unique cultural heritage of Spoleto and the region, the Mahler & LeWitt Studios provides research and development opportunities for curators, writers and artists of all disciplines, particularly those who may benefit from phases of experimentation. We provide artists with sustained support through our Projects and Publications programs, with the intention of bringing new work, developed during our residencies, to international audiences.
What I have learnt in life so far, is how we can learn from life: how the silence of contemplation and self-reflection, as you look to make a difference in yourself, can reflect usefully out onto the world – if not today, then tomorrow. I think that is what the Mahler & LeWitt Studios residency program is all about.
— Brian O. Kepher, Composer in Residence
HOW TO DONATE
The Mahler & LeWitt Studios is a charity registered in Italy (Associazione Socio Culturale) with 501(c)3 fiscal status via the Mahler Foundation for tax effective giving in the US.
We have three levels of support – Friends, Patrons and the Director's Circle. Donor benefits are outlined below.
Pledges of any amount promised over a three to five year period help us to plan the program more effectively. This is particularly important now, given our expanding program of residencies, exhibitions, special projects and publications:
Director's Circle
10,000 USD+ (8,500€+)
Patrons
3,000 USD+ (2750€+)
Friends
350 USD+ (325€+)
The group of artists and writers we gathered in Spoleto – to think, work, make, eat and live together – had a unique energy. Deep intellectual and artistic relationships were formed that have changed the way we move in the world.
— Rachael Allen, Poet in Residence and Guest Curator
DONOR BENEFITS
In recognition of your support we offer a number of benefits:
Friends
Receive a specially commissioned artist edition.
Copies of our publications.
Exclusive invitations to our events inSpoleto, London or New York.
An acknowledgement on our website and inour printed material.
Patrons
Patrons receive all of the benefits of a Friend and are offered opportunities for bespoke events such as studio visits with artists. We will regularly update you on program developments.
Director's Circle
Supporters donating at this band can participate in a regular dialogue with the Directors, enabling a close relationship with all the activities of the studios.
DONATE
To make a donation please follow the 'Click here' donation link provided below.
Multi-year pledge: $ / €
Pledges promised over a three to five year period help us to plan the program more effectively.
or
One-off donation: $ / €
Methods of payment
Mahler Foundation 501(c)3 for US tax-payers
Via 'Paypal'
Bank Transfer: Mahler & LeWitt Studios