Lonnie Holley

Artist in Residence in partnership with
Edel Assanti and the Festival dei Due Mondi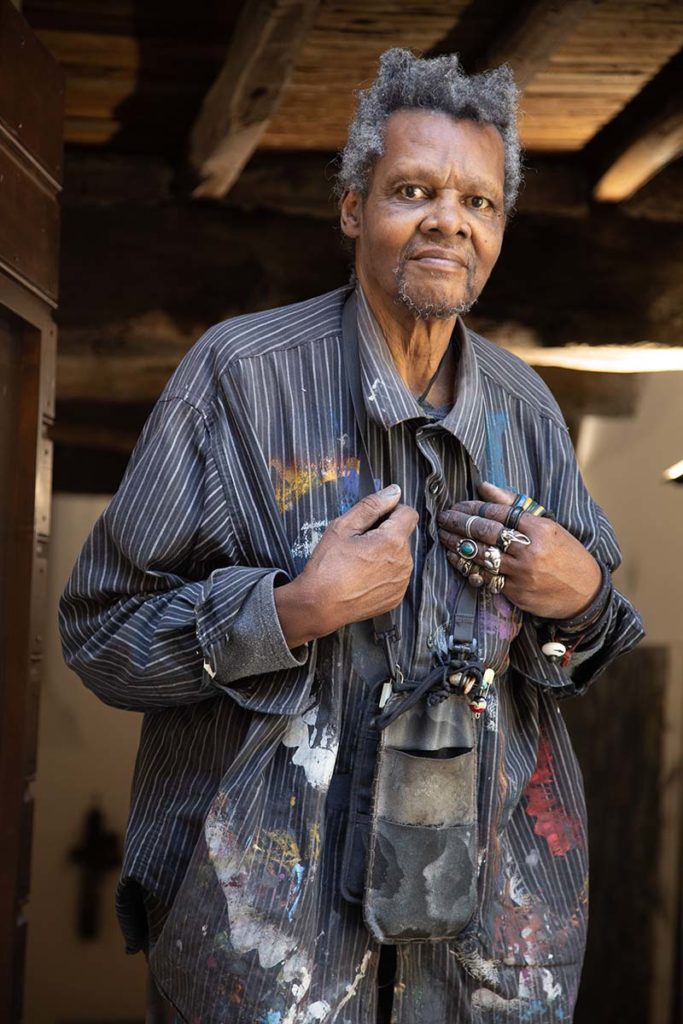 Artist, musician and educator Lonnie Holley was resident at the Mahler & LeWitt Studios during our Festival Session 2023. Holley has been making art since 1979, devoted to a practice of improvisational creativity that spans painting, sculpture, filmmaking and music. Adapting found materials, Holley's works relay histories that are both autobiographical and collective. His oeuvre tackles universal topics such as humanity's precarious relationships to the natural world and technology, alongside specifically American and personal histories, encompassing the residual effects of the Jim Crow era, the triumphs of the Civil Rights movement, and the ongoing struggles with false narratives around class mobility and race.
In Spoleto he produced a new body of work including 16 paintings on canvas, more than 20 sculptures, and dozens of works on paper. Holley also performed at the Festival dei Due Mondi, accompanied by drums and trombone duo Nelson Patton, and at our Open Studios, accompanied by harpist Mary Lattimore. Whilst in Spoleto, Holley told his extraordinary life story to the BBC World Service's Andrea Kennedy. Listen here>>
An excerpt from Holley's Open Studios text, written by Guy Robertson (Curator and Co-Director, Mahler & LeWitt Studios:
In the sculptures which adapt and combine discarded materials, Holley creates new evocative objects which encourage us to look twice and think deeply about our relationship to the world. A recent example – a shovel handle attached to a faucet –is titled 'Digging for water'. In other sculptures Holley carves stone, moulds clay or bends wire. In these (one example is titled 'From the Streets of Assisi', referencing the place Holley found the material) the features or profiles of faces proliferate. Holley has employed profiles in his work for decades now and the new paintings are dense with this motif, simultaneously figurative and abstract. For Holley – who as the many visitors to his studio in the last five weeks have experienced, is both artist and educator – these faces represent memory and discourse: the importance of thinking about the ancestors, the importance of history looking at the future now. This is "Thought-smithing". A term which Holley uses to describe the process of thinking and talking about life and art, and which finds its most direct expression in his live performances, where each song is improvised.
From the Streets of Assisi, 2023
We Kept Rising (Did You See Us?), 2023, 200 x 400 cm
Searching for Water, 2023
Trying to Return to Freedom, 2023, Mixed media, 70 x 40 x 36 cm
The Blood in the Stones, 2023, 150 x 150 cm
The Foundation of St. Francis, 2023
She Wanted to Be the Light of the World, 2023
Found on the Cutting Board, 2023
Like the Ancestors, 2023
Who Locked Up the Tools?, 2023
Just Before July, 2023, 150 x 150 cm
Lonnie Holley (b. Birmingham, AL, 1950) lives and works in Atlanta, Georgia. Exhibitions and performances in 2023 include: Souls Grown Deep, Royal Academy, London, and Lonnie Holley: If You Really Knew, North Miami (MOCA). He has recently exhibited at Dallas Contemporary, Dallas, USA (2022); National Gallery of Art, Washington D.C, USA (2022); The Morgan Library & Museum, New York, USA (2021); Turner Contemporary, Margate, UK (2020); Philadelphia Museum of Art, Philadelphia, USA (2020); Metropolitan Museum of Art, New York, USA (2018); MASS MoCA, North Adams, USA (2017); de Young Museum, San Francisco, USA (2017); among many others. His work is in numerous permanent collections, including the Metropolitan Museum of Art, New York, NY; Whitney Museum of American Art, New York, NY; Los Angeles County Museum of Art, Los Angeles, CA; and Smithsonian American Art Museum, Washington, D.C. Holley's first film, I Snuck Off the Slave Ship, (2019), premiered at Sundance Film Festival in 2019. Artangel commissioned Holley's song cycle and film titled The Edge of What in 2022. Holley is signed to Jagjaguwar, and lives and works in Atlanta, GA, USA.
Artist Website: lonnieholley.com