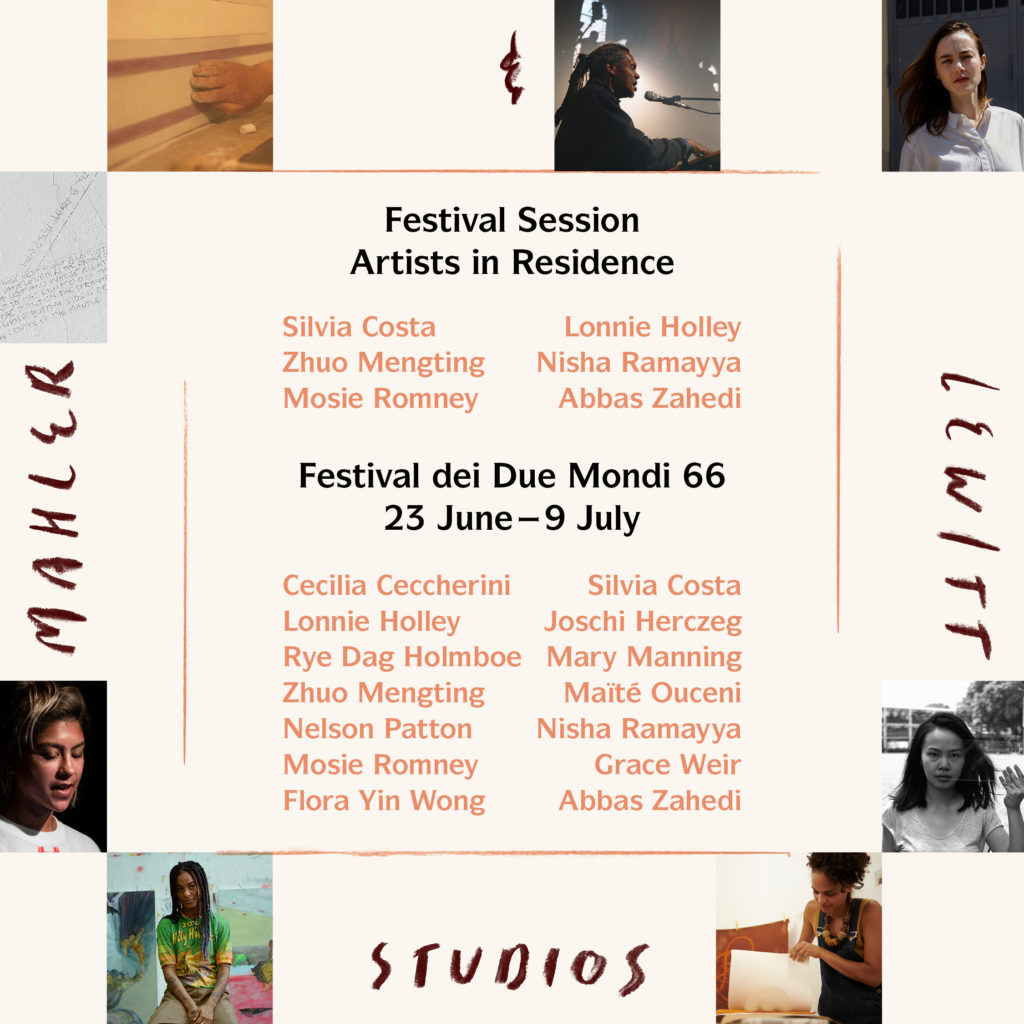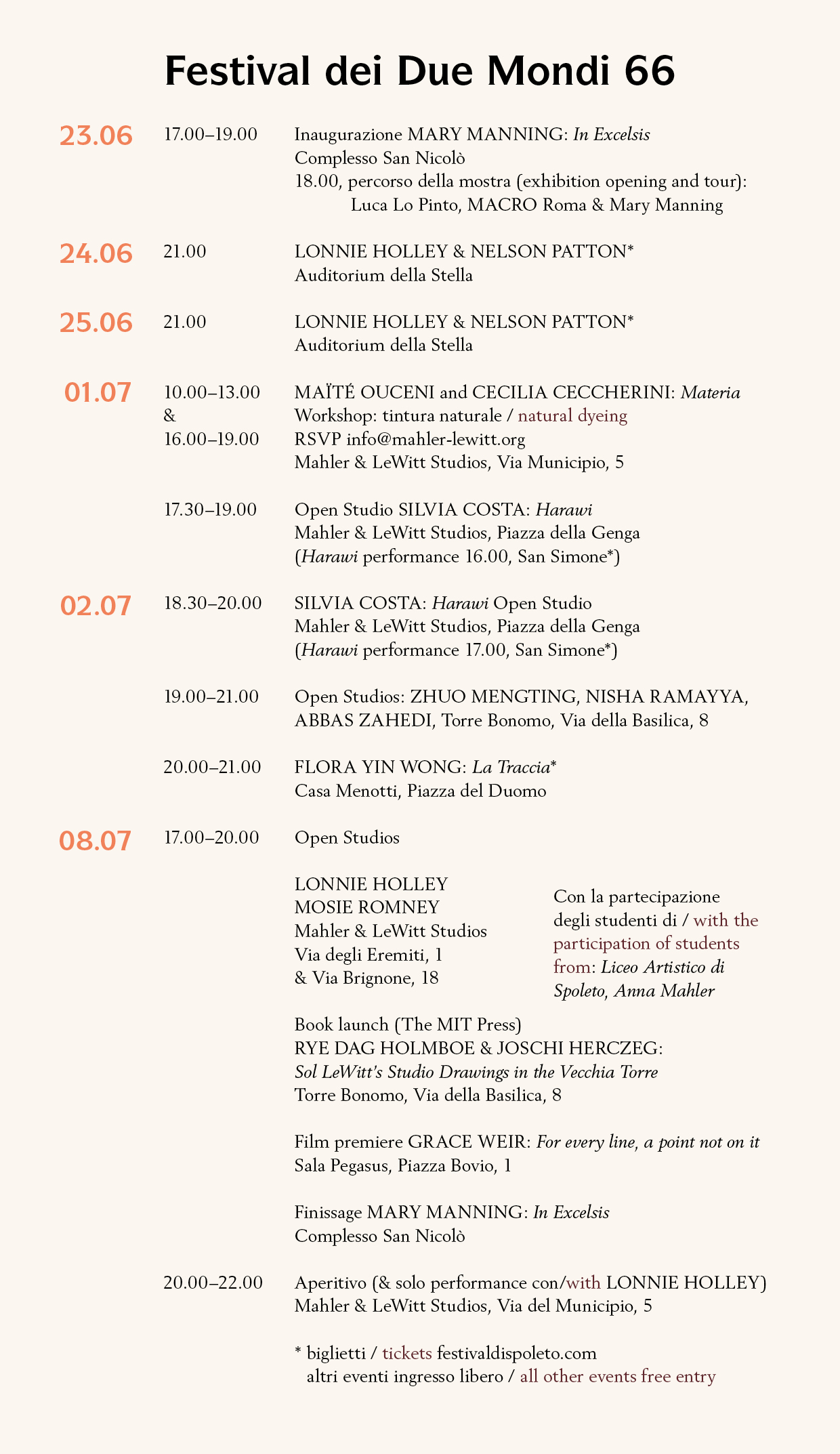 Join us this summer for our program at the Festival dei Due Mondi 66. All of our events and exhibitions are directly linked to the Mahler & LeWitt Studios residency program – the work presented has been researched and developed during studio residencies in Spoleto. 
This summer we host residencies with two of the lead Festival artists, Silvia Costa and Lonnie Holley; Costa's Harawi, a new interpretation of Messiaen's lieder cycle, is at San Simone and Holley (whose residency is supported by Edel Assanti) performs with Nelson Patton at Auditorium della Stella. At the end of their stay they share new visual work in their studios. Mary Manning's exhibition Mary Manning: In Excelsis – a body of work shot in Spoleto by the New York based photographer during a residency in 2022 – is hosted by the festival at Complesso San Nicolò and produced in partnership with Canada, New York.  
We are pleased to contribute to the vibrant Fuori Festival program with a live concert by former artist in residence Flora Yin Wong and we also host a studio residency with New York based painter Mosie Romney. Meanwhile, textile designer and natural dyeing expert Maïté Oucèni returns to Spoleto to lead a workshop in collaboration with artist Cecilia Ceccherini as part of our ongoing Materia program.
Marilena Bonomo was Sol LeWitt's first Italian gallerist and she and her husband Lorenzo introduced him to Spoleto. The families' stories continue to be closely and productively entwined. In the Torre Bonomo, which LeWitt used as a studio in the early 1970s before setting up his own, we host three London based artists Abbas Zahedi, Zhuo Mengting and Nisha Ramayya. They will develop and present site-specific, collaborative sound work. We also launch Rye Dag Holmboe and Joschi Herczeg's book Rye Dag Holmboe & Joschi Herczeg Sol LeWitt's Studio Drawings in the Vecchia Torre (The MIT Press), the culmination of a project which began in 2017 as our first collaboration with the current owner of the tower, Valentina Bonomo. Grace Weir, meanwhile, first visited Spoleto in 2018 as part of a residency session guest curated by Dr. Jo Melvin; now she premieres her film, Grace Weir: For every line, a point not on it, supported by the Arts Council of Ireland and Alessandra Bonomo, which takes the Eremo Santa Maria Maddalena on Monteluco as its starting point – the Bonomo's family home and an important artists retreat.   
Finally, our Spring Session hosted our first Schools Project, titled Anna Mahler: Between Figuration and Abstraction. As part of the project, which involved eighty students from the Liceo Artistico di Spoleto and the Accademmia di Belle Arti di Perugia, we organised a ceramic workshop with Spoleto based artist Annalisa Guerri. Work by the students will be exhibited at the Open Studios event on the last weekend of the festival.  
We are extremely grateful to our Friends and Patrons who provide the essential backing to run the Mahler & LeWitt Studios program and to the partners who have supported our Festival dei Due Mondi 66 program. In particular we would like to thank Maria Teresa Fendi and the Fondazione Carla Fendi for their ongoing support, Valentina Bonomo for her collaboration with the Torre Bonomo, and festival director Monique Veaute.