Open Call 'the SHED'
Performance Art Residency with Michelangelo Miccolis and Shedhalle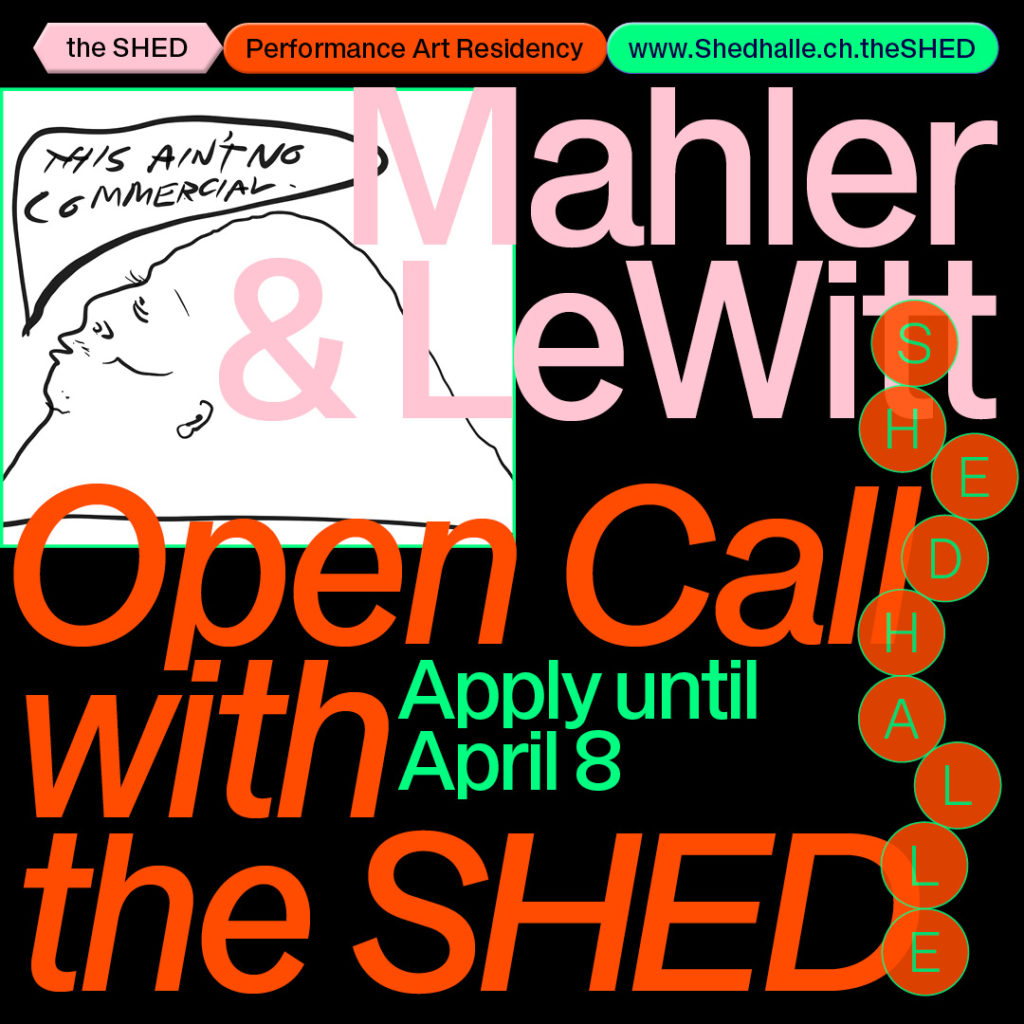 Submissions by: 8 April 2021
Residency: between 3 May – 27 June 2021
Visit 'the SHED' on the Shedhalle website
The open call has been awarded to Flora Yin Wong
Shedhalle and the Mahler & LeWitt Studios are pleased to announce a residency for artists working in performance. The opportunity includes a 30 day residency at the Mahler & LeWitt Studios in Spoleto, Italy, during which time the artist will participate in 'the SHED', an online residency space on the Shedhalle website programmed by Michelangelo Miccolis. 'the SHED' is conceived as a virtual greenroom and invites artists to share real-time, process-focussed aspects of performance practice in a digital environment. Artists and thinkers inhabit 'the SHED' and leave traces – whether it be a sketch of an idea, documentation of a realized work, or a testing site for new work. 
Applications are particularly invited from artists who are interested in exploring new ways of sharing live performance practices and from individuals who are facing challenges in creating work due to the Covid-19 pandemic.
Miccolis describes 'the SHED' program: "'the SHED' is an in-process meeting place, a proposal for a virtual greenroom, a site of connection and presentation not limited to physical location. It functions as a "live-room" on the homepage of Shedhalle, taken over by international artists, physically routed back to Shedhalle. 'the SHED' is accessible for live streaming and media sharing 24/7, not dependent on timezone, where artists are able to engage as if the space is their temporary studio, greenroom or even stage. 'the SHED' is an architecture to archive, present, perform, and connect…"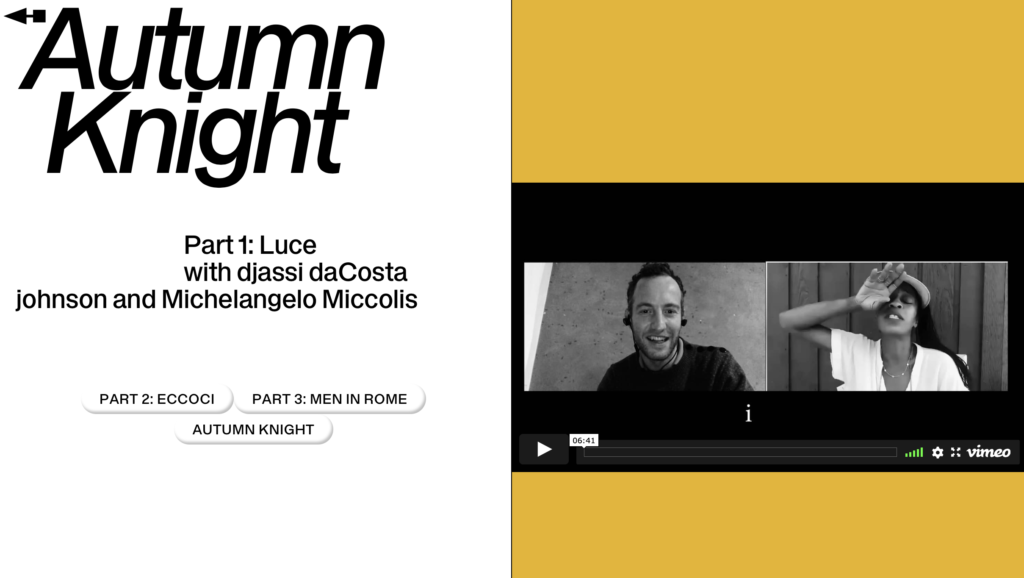 The Mahler & LeWitt Studios is established around the former studios of Anna Mahler and Sol LeWitt in Spoleto, Italy. The residency program provides a focussed and stimulating environment for artists, curators and writers 
to develop new ways of working in dialogue with peers and the unique cultural heritage of the region.
The residency opportunity includes:
Up to 35 days in residence at the Mahler & LeWitt Studios, including independent accommodation and studio space.

30 euros per diem.

Production budget (up to 500 euros).

Round-trip travel, excluding transfers.

Mentoring and feedback from Shedhalle curator Michelangelo Miccolis and Mahler & LeWitt Studios curator Guy Robertson. 

A residency on 'the SHED', an online program for process-based art organised as part of the Shedhalle program. 
Eligibility:
Artists whose practice engages with the concepts and methodologies of performance, including but not limited to performance artists, choreographers, movement directors, writers, and sound/video artists.

Artists of any age or nationality who are at any stage in their careers but who are not currently in higher education. 
Expectations of the awardee:
Participation in a period of research and development at the Mahler & LeWitt Studios in Spoleto.

Participation in an informal Open Studios event at the close of the residency.

During the residency the artist should be willing to regularly (at least once a week) share work in progress on 'the SHED' virtual greenroom. These contributions can take the form of a series of visual media, performance rehearsals, video, sound, text, sketches, etc. 

As part of the process of evaluating the residency/commission and reflecting on their work in Spoleto, the awardee is asked to develop a contribution to the Mahler & LeWitt Studios end-of-year publication, made available online and in print. Previous contributions have included interviews with the curator, texts, artworks or a combination of all three.
Covid-19
The safety of artists attending our residency sessions is of utmost importance to us. All our accommodation is self-contained and each resident has their own bathroom and kitchen. We are implementing extra vigilant cleaning protocols and we are adhering to guidance outlined by local government. If you have any concerns or questions, please do not hesitate to contact us.
Applications
The deadline for submissions is 8 April 2021. 
Applications should include:
Artist's Statement / description of practice and artistic process (500 words max)

A brief outline of how you would use the opportunity and why it would be helpful to your practice (500 words max)

Up to x10 images of work or x1 short video (5 mins max) or audio recording.
All submissions or questions should be clearly marked 'Open Call: Shedhalle / Mahler & LeWitt Studios' and sent via email to [email protected].
Further information
For more information please visit our websites: 
https://shedhalle.ch/the-shed/
Shedhalle & 'the SHED': Shedhalle is a space for process-based art. Processes are a tool to open up unknown spaces of thinking and action. It is at the core of our work. We continue to build on a history that allowed authority to be transferred from artists and institutions to the audience. Art takes part in the creation of actual communities. In this, we see the purpose of Shedhalle, and we respond to the need for new strategies of exhibition-making. 'the SHED' arose from this desire and what is now at stake, namely with lockdowns and quarantines keeping us stuck inside invisible borders, limiting access and our ability to form international communities. 'the SHED' is an in-process architecture to be occupied as a virtual greenroom with its walls and floors decorated by the gestures of art-making, collaboration, notation and conversation. 'the SHED' invites artists and thinkers to inhabit this space and leave traces – whether it be a sketch of an idea developed, documentation of a realized work, or a testing site for the development of a work in process. Supplying both its programmer and producer, Michelangelo Miccolis and nicholas von kleist respectively, to assume the roles necessary for each artist—allowing themselves to be outsourced as curator, producer, host, administrator, technician, performer, voice, and collaborator. 'the SHED' is a continual response to access. A process of imagining how to share and extend relationships, dialogue and space to connect when we feel isolated and unequal. Please find out more about 'the SHED' and Shedhalle at www.shedhalle.ch/the-shed.
Michelangelo Miccolis (1981, Mexico CIty) is an artist whose performance-based practice extends into various formats, from participatory happenings to writing, production and curation. Since 2017, he is the founder and curator of IMMATERIAL at Material Art Fair in Mexico City. From 2017 until 2019 he was guest-curator for Cabaret Voltaire, and in 2020 he joined Shedhalle's new curatorial board, both in Zurich. Current and upcoming projects include The Army of Love, in collaboration with Ingo Niermann and OFFSHORE, in collaboration with Cally Spooner. Since 2005, he has worked internationally on projects by renowned artists and institutions including: Dora García, Tino Sehgal, Christodoulos Panayiotou, Carlos Amorales, Romeo Castellucci & Socìetas Raffaello Sanzio, Venice Biennale, Fondazione Trussardi, Tate Modern, Palais de Tokyo, Museo Reina Sofia, Gropius Bau, Centre d'Art Contemporain Geneva, Estancia Femsa and Iuav University of Venice.
Mahler & LeWitt Studios: Our residencies and special projects are established around the former studios of stone sculptor Anna Mahler (1904-1988) and conceptual artist Sol LeWitt (1928-2007) in Spoleto, Umbria IT. The Torre Bonomo, a medieval tower once used as a residency and exhibition space by the gallerist Marilena Bonomo (1928-2014), is also central to the program. The residencies provide a focused and stimulating environment for artists, curators and writers to develop new ways of working in dialogue with peers and the unique cultural heritage of the region. Each residency is facilitated in response to an individual's needs and interests: experimentation is encouraged. The studios curators facilitate research as well as events or exhibitions, when appropriate, during the residencies. Each resident is provided with accommodation and 24 hour access to a studio. There are facilities for making ceramic as well as a range of other tools for production. Several libraries are also accessible. For detailed information and to learn more about the work of previous residents and our projects, please visit our website www.mahler-lewitt.org.